AiiYME, a leader in pet grooming that has provided hair dryers to a cumulative total of 100,000 users worldwide, today announced a new generation of its new pet-friendly hair dryer, The G1.
Users can learn more about the product details by clicking the link:
https://www.kickstarter.com/projects/aiiyme/aiiyme-smart-high-speed-pet-dryer-making-pet-grooming-easier
AiiYME G1 is the first product of its kind that takes into account the home user. Not only is it suitable for professional pet groomers, but it is also very user-friendly for first-time home users. G1's innovative front-end control function allows even beginners to easily choose the most scientific drying speed and temperature without worrying about harming their pet's fragile coat.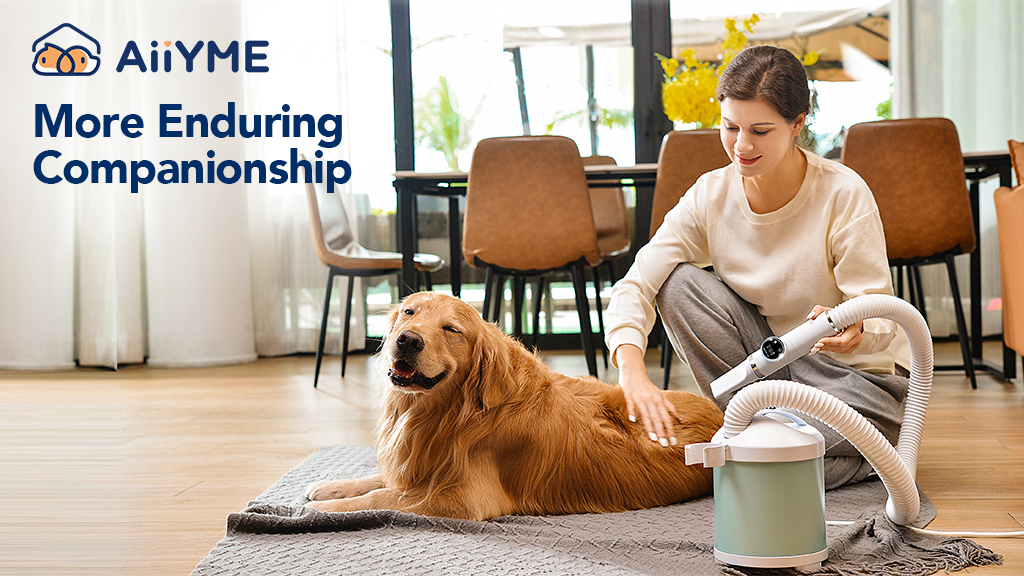 AiiYME always believes that the pets should enjoy better products. Every manufacturer of pet products, at the beginning of design, should focus more on how to improve the experience of using the products for pets themselves.
Different sizes, different hair length and thickness of the pet in the drying and styling process requires different temperatures and air speed. Most traditional dryers only have 1-2 gear settings, can not be selected according to different needs.
The AiiYME G1 updates its function of unique front-end intelligent infinitely controllable knob allows precise control of air speed and temperature. For those small fur pets, userscan choose the right air speed, temperature and noise level. For the big guys with thick fur coats, users can choose the powerful mode to dry them quickly. The one-handed control allows an empty hand to be used to calm your pet and reduce their tension in the grooming process, so users don't have to worry about their pets taking advantage of the opportunity to escape.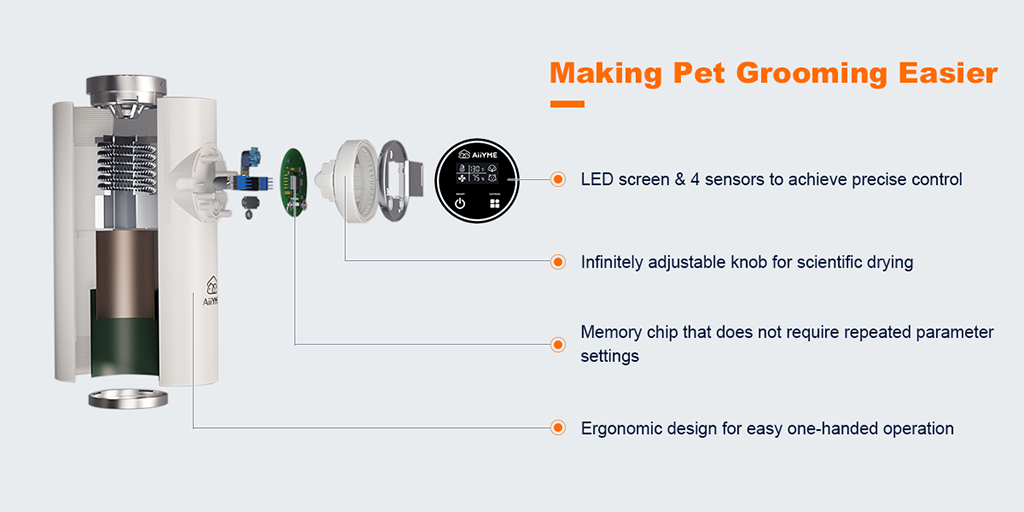 The AiiYME G1 controls noise between 61DB through multiple noise reduction technologies, effectively reducing noise while avoiding secondary air pollution. This is very important for both pets and pet owners. 4 noise reduction technologies to reduce noise.
1.

Air duct structure optimization

2.

Ultra-quiet motor

3.

Acoustic noise reduction

4.

Anti-resonance device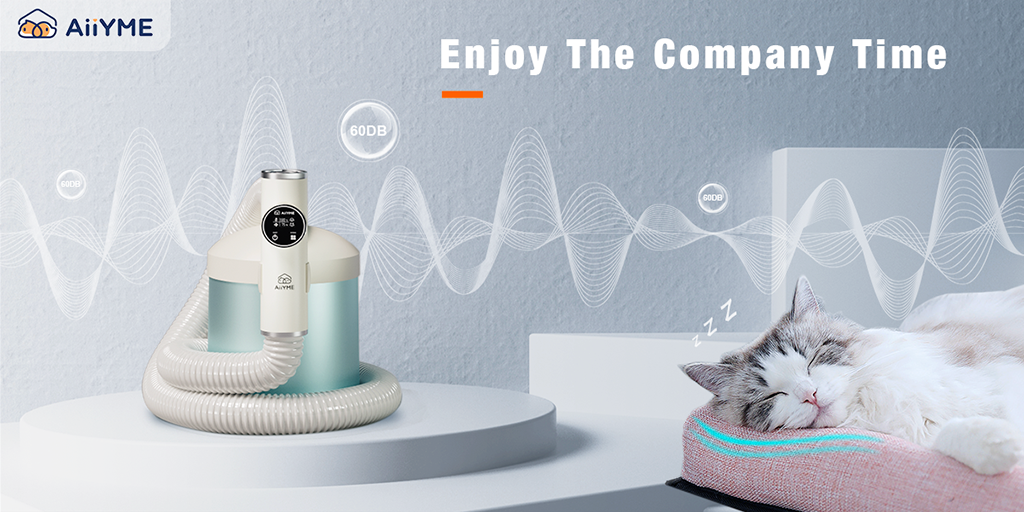 AiiYME G1 has a maximum blowing power of 4.9 lbs/78 oz and 100CFM super wind speed, which can easily cope with pets with thick hair like Alaskan dogs, with reasonable temperature settings that won't damage your pet's fur and shorten the drying time by 50%.
G1 front with multiple NTC temperature sensors, with PID temperature control algorithm, you can control the error of the air temperature within ± 1℉. Users can customize a more scientific drying temperature for their pets without worrying about damage to your pet's fur caused by high temperatures.
AiiYME G1 constant temperature feature can dry pet hair more scientifically, and negative ions of Up to 80M ions/cm³ of negative ions can repair the damage caused by the drying process, effectively.
As a pet grooming product that takes into account the family user, safety is also crucial. AiiYME G1 uses front-end heating method, not only solves the risk of high air duct temperature easily scalded after long time use of other pet dryer, at the same time because of the reduction of heat transfer loss, g1 can reduce 40% of energy / electricity consumption.
Combining the whole process of pet grooming, AiiYME G1 offers a wider variety of nozzles to meet different styling needs.
With its compact size (10.2IN*6.95IN) and lighter weight (6.28lb), the AiiYME G1 is easy for female users to pick up as well.
AiiYME works with all parents of fur children to do so.
For more information, please click here to visit:
https://www.kickstarter.com/projects/aiiyme/aiiyme-smart-high-speed-pet-dryer-making-pet-grooming-easier
Customer support: [email protected]
Business Inquiry: [email protected]
JOIN AiiYME CLUB :
https://www.facebook.com/groups/aiiymemembersclub