Bitget, top crypto derivatives and copy trading platform, unveils its latest offering – the CTA (Commodity Trading Advisor) strategy, equipped with an advanced AI bot. This groundbreaking development empowers users to execute sophisticated trading strategies effortlessly, maximizing their potential for success in the dynamic cryptocurrency market.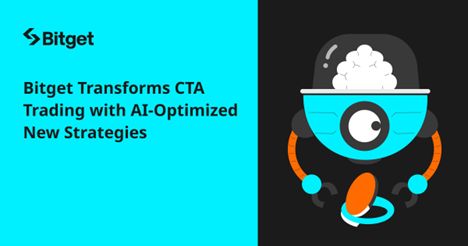 CTA, short for Commodity Trading Advisor, is a proven strategy predominantly applied to commodity futures and stock index futures. Leveraging the success of previous CTA products, Bitget has harnessed the power of CTA strategies for cryptocurrencies, offering users an index trading system designed to capitalize on short-term trading opportunities using price/volume trends. The Turtle Trading Strategy, MACD Trading Strategy, and BOLL Mean Reversion Trading Strategy are some of the common approaches incorporated.
Bitget's innovative CTA-AI bot revolutionizes the cryptocurrency trading landscape by simplifying the process for various users, especially those novices. The bot conducts backtests using recent historical data, intelligently identifying optimal parameters to adapt to market conditions. This eliminates the complexities of configuring various intimidating parameters, making it user-friendly for traders of all experience levels.
By employing CTA strategies with AI assistance, users can free themselves from the shackles of human emotions and impulsive decision-making. The CTA-AI bot adheres to predetermined rules, enhancing execution efficiency and trading accuracy. Whether it's buying (going long), selling (going short), or both, the bot enables users to aim for net profits with confidence.
AI is the transformative power that will be combined with strategy trading inevitably. Bitget aims to empower users with cutting-edge technologies in a safe way. Seamless integration of the AI bot into Bitget's strategy trading services makes it incredibly easy to use. The new instrument intends to provide crypto newcomers with a convenient and advanced investment strategy enabled by AI.
Gracy Chen, Managing Director of Bitget, commented on the launch of CTA AI strategies, stating, "Our goal is to empower our users with cutting-edge tools that simplify their cryptocurrency trading experience. The CTA-AI strategies bring the power of sophisticated strategies to the fingertips of every trader, regardless of their expertise. We believe this will unlock new opportunities and drive greater success for our valued users. Bitget has revealed its new rebranding campaign focused on the "Trade Smarter" concept, which highlights Bitget's commitment to providing users with intuitive, secure, and easy-to-use tools to enable a more efficient financial future. "
CTA-AI strategies are one type of the AI-powered tools Bitget rolled out recently, along with the Martingale AI feature and Grid Trading AI strategies. Bitget continues its commitment to innovation and providing users with a secure, one-stop trading solution. As one of the world's leading cryptocurrency exchanges, Bitget remains dedicated to inspiring individuals to embrace crypto and trade smarter.
About Bitget
Established in 2018, Bitget is the world's leading cryptocurrency exchange that offers Copy Trading services as one of its key features. Serving over 20 million users in more than 100 countries and regions, the exchange is committed to helping users trade smarter by providing a secure, one-stop trading solution. Bitget inspires individuals to embrace crypto through collaborations with credible partners, including legendary Argentinian footballer Lionel Messi and official eSports events organizer PGL.
For more information, visit: Website | Twitter | Telegram | LinkedIn | Discord
For media inquiries, please contact: [email protected]