NaaS (NASDAQ: NAAS), the first listed EV charging service company in China, demonstrated its innovations at the Power2Drive Europe exhibition. The event was held as a part of The smarter E Europe, the largest platform of Europe's energy industry, at the Messe München in Munich, Germany between June 14 and 16, 2023.
Power2Drive Europe is an international exhibition for charging infrastructure and E-mobility, shining the spotlight on charging systems, EVs, traction batteries as well as mobility services. As a part of The smarter E Europe platform, the event is collectively expected to feature over 2,400 exhibitors and welcome more than 85,000 visitors.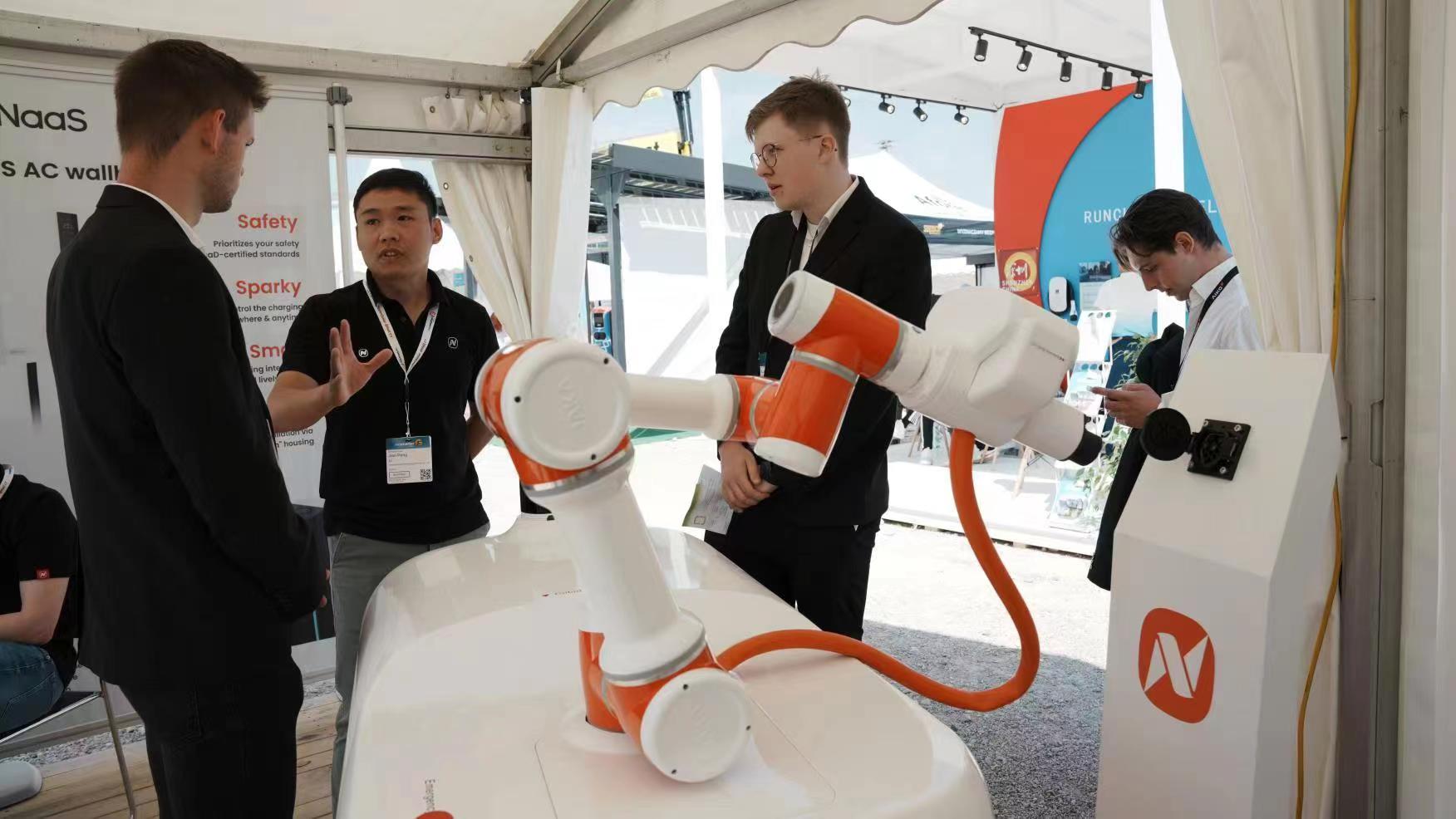 Staff of NaaS introduced NaaS's experience at P2D Europe
The exhibition marks that NaaS's automatic charging robot has appeared in Europe. Created by the NaaS Automatic Energy Replenishment Solution team, the robot is equipped with an array of sensors that work best in closed environments. From navigation to connecting to the vehicle's charging port, the charging bot can do it all without human input. The driver only needs to summon the bot by tapping on their smart devices.
At the event, NaaS also showcases its fully digitized charging service platform and hardware for consumer and enterprise use cases. NaaS's flexible solutions portfolio, encompassing 7kW to 22kW AC products, covers every home EV charging application. Further extending its advantages, NaaS leverages solar energy solutions from its partners, reinforcing its commitment to greenifying the transportation industry.
The trend of ICE to EV transition is happening all over the world. According to the data of International Energy Agency,the global penetration rate has hit 14% and further to 60% by 2030. EV penetration in the EU is rising at an astonishing rate. Currently, EVs outnumber chargers 14 to 1 in the EU. This imbalance represents a gap in service availability and hinders the adoption rate of EVs. NaaS's strength is having a full ecosystem that has proved to others which we can deliver in China, a rather complex ecosystem. NaaS's innovative business model is ready to capture the untapped market potential.
"Europe is obviously a mature market where the EV penetration rate is high and the ecosystem is well developed," said Allen Dong, NaaS's President of Europe and Middle East,It has also fostered favorable market conditions for EVs to thrive in the long term, which creates the right opportunity for NaaS to support its growth. Our strategy in the EU is to leverage the existing sales and marketing channels.
NaaS accounted for 20% of the country's public charging volume in 2022 and has connected 55,000 charging stations and 575,000 chargers as of March 31, 2023. NaaS's appearance at Power2Drive Europe further strengthens its commitment to bringing cutting-edge solutions to the global stage. As the company accelerates its international business strategy in Europe, it's also looking to expand into Southeast Asia, the Middle East, and other global markets.
Lately, NaaS announced it has completed the SPO transaction of 3.5 million American Depository Shares (ADS). The transaction involved notable investors such as Dr. Adrian Cheng and CST Group (0985. HK), a well-established HK-listed company. And NaaS acquired over 89% Stake in Sinopower HK on June 12, 2023.