Sonet is pleased to announce its integration on the TON blockchain, "The Open Network", to enhance its social middleware on Telegram and provide a consummate user experience on-chain through TON.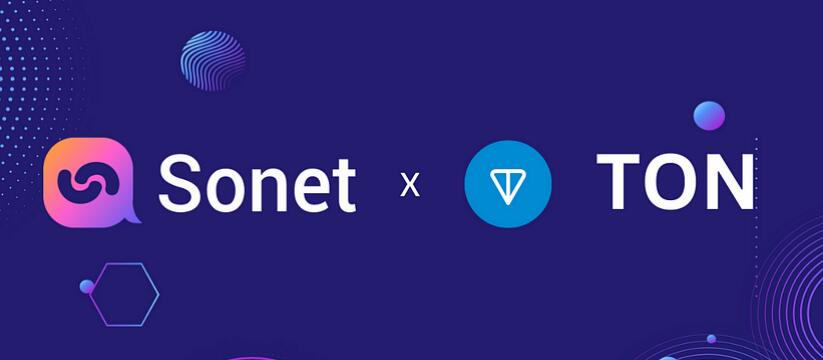 With this new focused direction, Sonet will revolutionize the way Web3 projects can build and grow on Telegram as a platform for project management, marketing, and community engagement through our beta product, Soton, as a means to reduce friction of redirecting from site to site. Members will be able to create DAOs, proposals, vote, and execute marketing campaigns directly on Telegram by simply binding their wallet address to the bot.

A forthcoming article will provide further details about Soton and its launch! Stay tuned on our Medium.
TON is designed by Telegram to establish a decentralized platform for social applications across Web2 and Web3 funnels, offering messaging, file sharing, and financial services to its 500M+ user base. This integration, along with Telegram's social identity aspect, makes Sonet more valuable and high-fidelity across different sources. Acquiring user data will allow us to understand user behavior from a click anywhere on the web to any on-chain action, whether your funnel starts with a Tweet or Discord post and ends in a NFT purchase or token staking.
Our company has initiated communication with over 200 projects within the TON ecosystem, including the TON foundation. Our aim is to establish relationships with these projects and invite them to test our Soton Beta product. Through partnerships with these projects, we intend to collaborate and create incentive programs that encourage their community members to use our Soton Telegram bot. This will enable them to participate in governance, marketing surveys, and earn rewards through our application.
We are excited about Telegram's innovative approach and successful implementation in Web3. As a Web2 social platform spearheading Web3 social media and communication, Telegram's approach is noteworthy. We are eager to not only continue building on TON, but also expand our tooling platform to cater to other regions of the world.
About Sonet
Sonet is focused on resolving the communication problems of Web3 by creating bridges for Web3 networks as well as connecting traditional Web2 media platforms. Existing Web2 applications like popular social networks, and future apps will be created using our SDK middleware development framework. Our middleware aggregator, enables end users to interact in Web2 using Web3 infrastructure services.
About Ton
The Open Network (TON) is a blockchain project that was created by the team behind the popular messaging app, Telegram. TON aims to provide a decentralized platform for a variety of applications, such as messaging, file sharing, and financial services. The TON blockchain was designed to be fast, secure, and scalable, with the ability to process millions of transactions per second. It features a unique "shard" architecture that allows the network to be divided into smaller segments for more efficient processing. TON combines proof-of-stake and Byzantine fault-tolerant consensus mechanisms to achieve high speed and security.