VBONE, a groundbreaking community-driven protocol and cryptocurrency, is set to transform the landscape of traditional finance (Tradfi) and decentralized finance (DEFI). With its innovative features and a strong emphasis on community participation, VBONE aims to address the pain points of existing financial systems and provide users with a seamless and rewarding financial experience.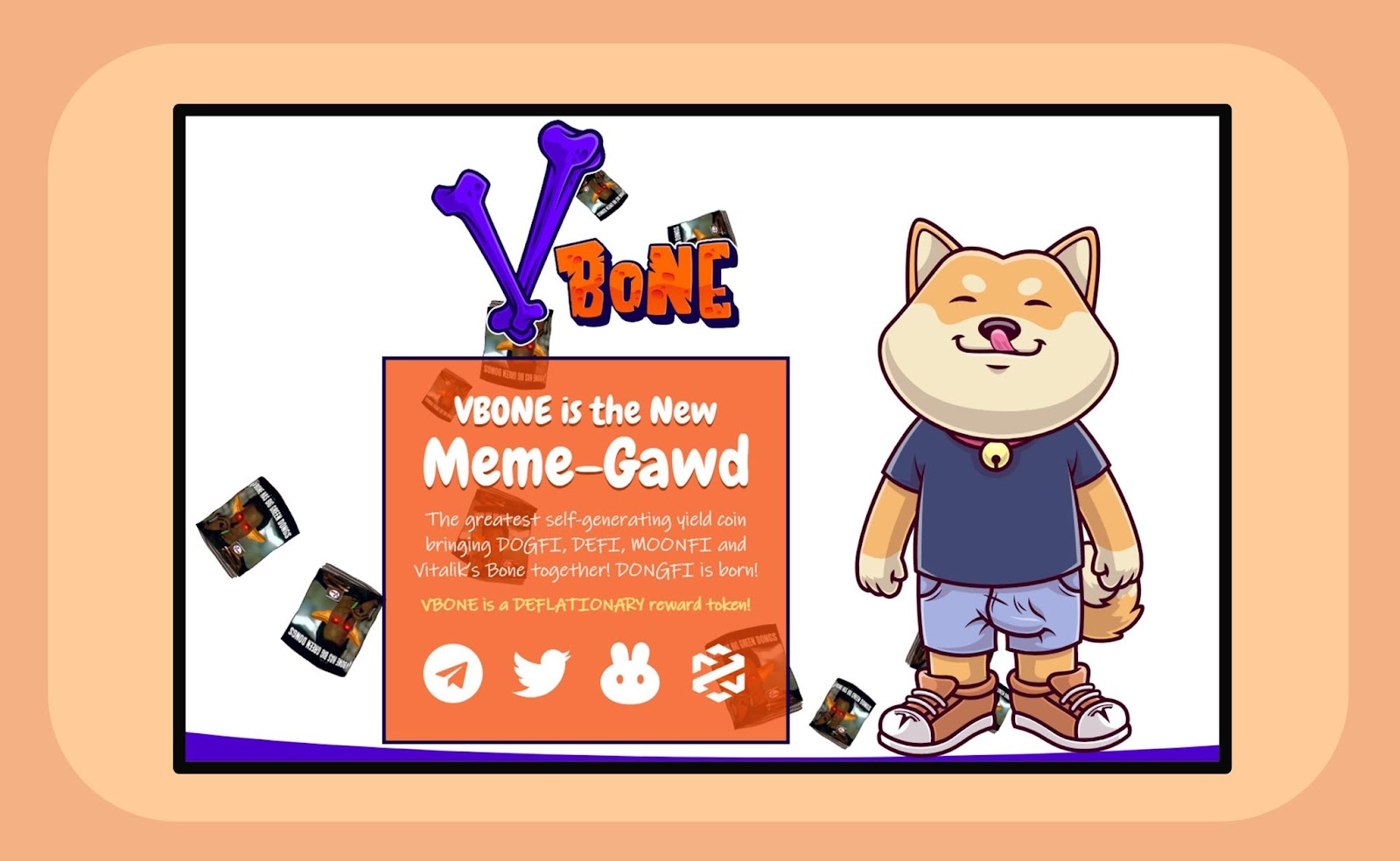 VBONE's core proposition revolves around its deflationary reward token model. By implementing a 10% sell tax, all reflections are automatically distributed to VBONE holders, eliminating the need for intermediaries and enabling users to earn yield on their cryptocurrency holdings. This unique mechanism empowers users to maximize their earnings and take control of their financial future while avoiding the custodial concerns and costs associated with traditional finance.
The protocol leverages a proof of stake (POS) blockchain ecosystem, mitigating the environmental impact typically associated with proof of work (POW) cryptocurrencies. By embracing a sustainable approach, VBONE ensures efficiency and reduces transaction costs, allowing users to transact seamlessly. Additionally, VBONE's token supply is designed to be deflationary, as a portion of the Sell tax is used to burn tokens, creating scarcity and driving long-term value appreciation.
VBONE ensures trust and transparency through its public and verified smart contract. The decentralized exchange (DEX) liquidity is locked, and smart contract ownership is renounced, establishing a trustless ecosystem that operates autonomously and securely.
The success of VBONE is backed by a highly skilled team with extensive experience in the crypto space. Comprising a full-stack developer, two marketing consultants, and a venture capitalist, the team is committed to driving innovation and delivering a unique and user-centric crypto experience.
To foster growth and engage with the community, VBONE has implemented a comprehensive marketing strategy. Boasting a visually stunning website and an extensive collection of engaging memes, VBONE cultivates an environment that encourages community engagement and attracts new members. The project has conducted targeted outreach through sponsored tweets, banner ads, and influential Binance Live AMAs, establishing strong connections within the industry.
Moving forward, VBONE aims to become a preferred payment option for commerce by listing on major crypto payment processors. This strategic move will enhance the utility and adoption of VBONE, allowing users to transact seamlessly within the ecosystem and beyond.
For more information about VBONE and to join the community, please visit the official website at https://vbone.io/.
About VBONE
VBONE is a pioneering community-driven protocol and cryptocurrency project that seeks to revolutionize traditional finance and decentralized finance. With its deflationary reward token model, sustainable blockchain ecosystem, and a strong focus on community involvement, VBONE aims to overcome existing challenges and provide users with a seamless and rewarding financial experience. Led by a team of experienced professionals, VBONE is dedicated to driving innovation and shaping the future of finance.
Website | Twitter | Telegram | LinkedIn | CoinMarketCap | PancakeSwap | Whitepaper
###
VBONE
Disclaimer:
The information provided in this release is not investment advice, financial advice, or trading advice. It is recommended that you practice due diligence (including consultation with a professional financial advisor) before investing or trading securities and cryptocurrency.