Flux, the frontrunner in building decentralized infrastructure to power Web3 development, today announced the launch of the first-ever decentralized WordPress, closed beta. The world of websites has been revolutionized with the arrival of the Flux decentralized infrastructure. This new platform has made it possible to run WordPress websites on a vast, decentralized cloud infrastructure, bringing a new level of performance and scalability to the popular content management software.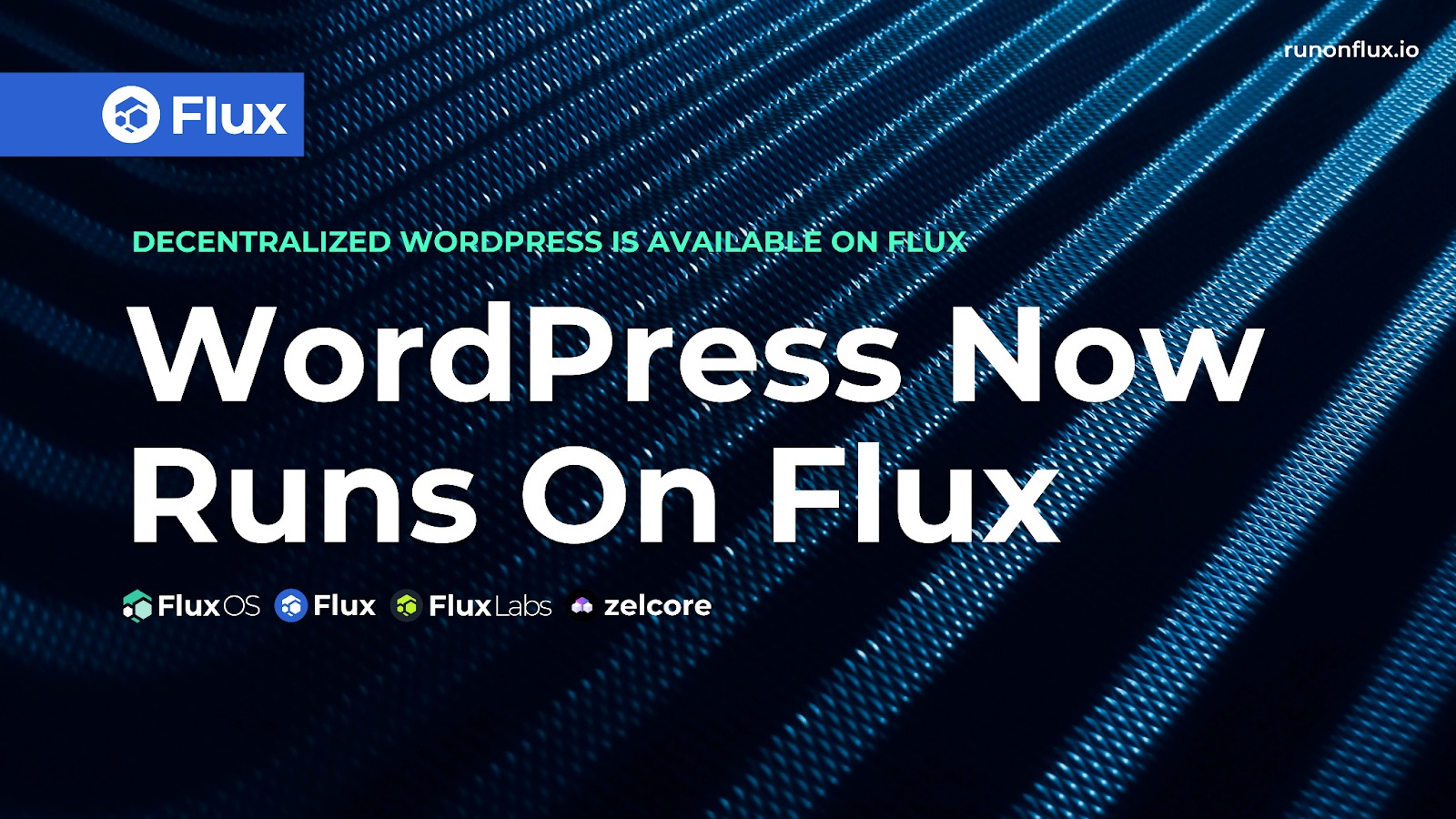 For those unfamiliar, WordPress is a highly versatile and user-friendly platform that powers over 43% of all websites of the internet. Known for its ease of use and ability to be customized with plugins, it has become an essential tool for businesses, developers, and individuals alike.
But why run your WordPress website on Flux? There are many reasons, but let's focus on three key benefits.
First, the performance and scalability of Flux is unparalleled. Flux uses enterprise-grade hardware to host its nodes, allowing for faster response speeds and increased uptime. Secondly, deploying a WordPress application on Flux is incredibly simple, with a one-page installation process that requires no technical expertise. Finally, Flux is highly cost-effective, with plans starting at just $2.74 per month, making it a great option for bloggers, small businesses, and startups on a tight budget.
Flux also brings new possibilities to the Web3 ecosystem. With plugins for integrating decentralized functionality on WordPress and the recent launch of Flux IPFS, users now have access to decentralized storage and a one-stop ecosystem for all their business and application needs.
Decentralized WordPress on Flux is also poised to play a critical role in bridging the gap between Web2 and Web3 technologies. With over 1000 new users joining WordPress daily and a 64% market share in the CMS space, decentralized WordPress has the potential to greatly shorten the learning curve for those new to Web3.
The exclusive beta WordPresss will be open to the public on February 27th. For more information about Flux, please visit: https://runonflux.io/.
About Flux
The Flux Ecosystem is a suite of decentralized computing services and blockchain-as-a-service solutions which offer an interoperable, decentralized, AWS-like development environment. Flux utilizes a native POW (Proof-of-Work) coin to power this ecosystem, providing incentive for hardware hosters, governance on-chain, and bad actor mitigation via staking requirements for running hardware. The Flux operating system runs on top of Linux to provide the network with verified and benchmarked high-availability compute power and utilizes the blockchain to ensure transparency in governance operations. Flux node operators can choose from three tiers of hardware requirements to stand up after providing the necessary Flux capital soft-locked in their wallet. This allows anyone to be rewarded for providing hardware to the network, from anywhere in the world.
Media Contact:-
Company Name: InFlux Technologies Limited
Contact Person: Alžběta Kolibačová, CMO
Email: [email protected]
PR Contact:-
Company: MediaXwire
Name: Jagatjit Sarkar
Email: [email protected]
Telegram: Jagatjit Sarkar